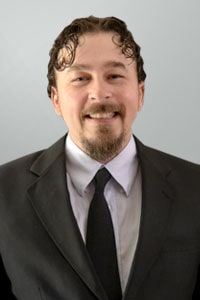 Andy Patrick
Legal Intern
Andy Patrick is our Legal Intern. He is currently attending Gonzaga University School of Law and intends to graduate December 2019. While in law school Andy has had the opportunity to clerk at the Washington State Office of the Attorney General and at the Spokane County Superior Court for Judge Tim Fennessy.
Andy is a native of Eastern Washington. He grew up in Colville, WA and Republic, WA. Prior to starting law school, he had many jobs including military police, corrections officer, and counterintelligence agent. Andy earned his Associates of Arts at Spokane Falls Community College and a Bachelor of Arts in Organizational Management from Whitworth University.
Andy is a licensed legal intern, which means he is authorized by the WSBA to do many things an attorney does. He does research and drafting. He also represents our clients for traffic tickets and appears with our criminal defense clients for first appearances. Andy's various experiences give him a unique ability to provide excellent representation for our clients.
Andy is married to his beautiful wife of 15 years. They have three children. In his spare time, he enjoys snowboarding, fishing, and playing games or other outdoor activities with his family and petting his dog. Andy is very active in the community. He volunteers as a camp counselor at a summer camp for the children of military and often volunteers or serves in leadership roles with the Veterans of Foreign Wars, Guard and Reserve Youth Association, and the Irish Jewish Law Caucus.
Associations and Organizations
Armed Forces Law Caucus 2018
Irish and Jewish Law Caucus 2017
Washington State Association for Justice 2017
Other Activities
Veterans of Foreign Wars 2004 – Present
Past Commander (2013 – 2015)
Guard and Reserve Youth Association 2015- Present
President of the Board (current)
Education
Gonzaga University School of Law
B.A, Whitworth University, 2017
Organizational Management
A.A., Spokane Falls Community College, 2013
Liberal Arts