California Wildfires Ignite Immigration Debate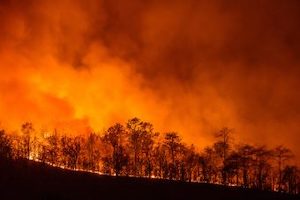 Wildfires ripping through northern California have damaged or destroyed close to 10,000 homes. It seems as though this latest catastrophe would have nothing to do with immigration, but it does. The fires have ignited a debate over immigration, and those sparring are cops in Sonoma County and officials with Immigration and Customs Enforcement (ICE).
The acting director of ICE has called out top cops in the county for what he is calling sanctuary policies. Acting Director Thomas Homan said that those policies have "left their community vulnerable to dangerous individuals and preventable crimes."
The argument was started after a man, known to be an illegal immigrant who had been deported to Mexico twice before, was arrested for starting a fire in Maxwell Farms Park. The man was charged with felony arson and held on a $200,000 bail. News reports quickly grabbed ahold of the story and claimed that the man was responsible for the wildfires that are plaguing the state.
The Sonoma County Sheriff, Rob Giordano, bit back at reporters for speculation. The sheriff said that there is no indication that the man arrested is related to the wildfires. The sheriff went on to say that he wanted to put an end to the speculation before things got out of control. ICE has said that the same man has been arrested four times in the past year, each time having had a detainer placed against him, but also saying that ICE was never notified of his release from custody.
If you need assistance with immigration issues in Washington state, please reach out to our office to schedule a case evaluation. We understand current immigration law and are here to offer you our assistance.