Coeur d'Alene Immigration Lawyers Move to the Heart of the City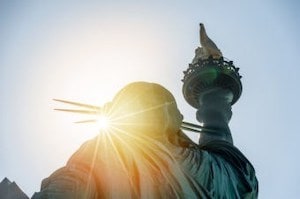 Anyone living in Coeur d'Alene, probably considers themselves lucky. First and foremost, it's a beautiful place! Surrounded by nature, the city in Idaho offers a balance of family fun, commerce and outdoor adventure. Ever since Barbara Walters highlighted it in 2007 as one of her most fascinating places to visit, tourism has exploded. That means citizens and non-citizens alike have enough opportunities to work and play in this "Little Slice of Heaven." If you are a non-citizen living and working in Coeur d'Alene, you probably agree and that's why you're here.
If you are not aware, Coeur d'Alene is named after the Native Americans who lived in the area when the French trappers arrived. The name "Coeur d'Alene" literally means "heart of an awl" or "sharp-hearted." The name reflected the French traders respect for tribal leaders as smart business people. The tradition of sharp business practices can be seen around Coeur d'Alene today. A strong and diverse business community, the area thrives on the hard work of all who choose to live here. We see that growth and that's why our immigration lawyers are opening an office in the heart of the city.
Coeur D'alene Immigration Lawyers Share a Love for the Lake City
As hard working immigration lawyers living in the region, we are proud to establish a new office in Couer D'Alene. Supporting local green card, visa and citizenship issues is what we've been doing in Spokane Valley for some time now. Spokane, Washington is a "satellite city" and our immigration law office has been helping Couer D'Alene clients for years. Not only do our immigration lawyers expertly manage non-citizen issues, we also handle a list of other legal problems such as traffic tickets, DUI/DWI and criminal defense. With so much to do, it just made sense to place a few of our immigration lawyers within biking and walking distance of Coeur d'Alene residents.
Although the city can feel like a Northern American paradise, our Coeur d'Alene immigration lawyers understand not every day is perfect. Immigrants may be worried about their green card status. Local business owners may be confused how to process an H-1B visa for a specially-skilled employee. Citizens and non-citizens alike can experience a car accident on the icy roads on the way to Spokane, Washington. Any of these situations need a skilled attorney nearby to help. If you have run into some trouble and could use a top lawyer in Coeur d'Alene, feel free to meet with us for a consultation in our new offices. Our immigration lawyers understand not every day can be perfect even in such a heavenly place!