DUI Marijuana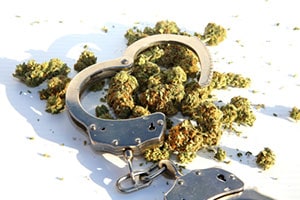 Washington State allows for the recreational use of Marijuana for persons over the age of 21 on private property. It is not legal to consume or open packages of Marijuana in public places or in places that are generally available for public use. It is not legal to operate a vehicle under the influence of Marijuana. If a police officer believes that you are impaired from the use of marijuana, you may be charged for Driving Under the Influence of Marijuana.
Washington State has a "per se" limit for marijuana impairment. A per se limit is the amount of a substance in your body, where the law presumes a person is impaired. Most people are aware of the Washington "per se" limit for alcohol, which is a 0.08 blood-alcohol concentration (BAC). If a person tests at 0.08 BAC or higher within two hours of operating a vehicle, the law will presume they were DUI at the time. The "per se" limit for marijuana is 5 nanograms of THC per milliliter of blood. If a person tests at 5 ng/ml or higher within two hours of operating a vehicle the law will presume that they were DUI Marijuana at the time. While alcohol and marijuana both have "per se" limits, there is a great deal of difference in how the substances affect your body and how the chemicals are processed in your body.
Science has shown that alcohol is metabolized in a fairly linear and predictable fashion. For example, an average sized person's body will process 1 standard sized alcoholic drink per hour. So if an average person drinks one glass of wine fairly quickly, a test should show 0.02 to 0.03 BAC shortly after finishing. The alcohol should be completely out of their system in an hour to an hour and a half.
Unfortunately, THC is metabolized in a different way than alcohol. It does not metabolize in a linear fashion and your body stores THC in fat. THC concentrations are vastly different for each Marijuana strain; the individual's frequency of use; and whether the THC is smoked or ingested through edibles greatly affects THC levels in the body. For example a first time or infrequent user's blood concentration may quickly spike to around 100 ng/ml and then drop to below 10 ng/ml within an hour, where as a medical marijuana patient may have blood concentrations far above 5 ng/ml with zero effects of impairment.
While we can all agree that we don't want impaired drivers on the road, Washington States DUI Marijuana per se law is not a fair and good law. Unfortunately, it is the law. If you have been charged with DUI Marijuana, you need a lawyer who understands the law and the science. You need an attorney, that you can depend on to fight for your rights and hold the government accountable.
We Are The Law Firm You Can Depend On. Please contact us today and let us begin assisting you with your DUI Marijuana defense– professionally, efficiently and effectively! Call (509) 891-4301 or (208) 667-0566.