Feds to Sanctuary Cities: Cooperate or Else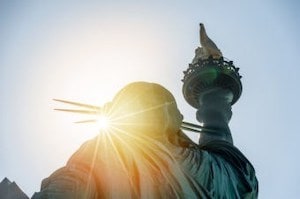 You may have heard about sanctuary cities. These are areas in the country that have refused to cooperate with immigration enforcement, instead choosing to protect the rights of immigrants that were in place before President Donald Trump took office. Recently, the Justice Department fired off letters to eight sanctuary cities, demanding proof that they are cooperating with enforcement.
According to reports, letters were sent to officials in: New Orleans; Philadelphia; Chicago; Miami; Las Vegas; New York; Milwaukee; Cook County, Illinois; and the California Board of State and Community Corrections. Each of these areas has policies or laws in place that have restricted law enforcement from freely handing over illegal immigrants to federal officials.
The Justice Department says that these cities are areas with increased violent crime and illegal immigration. Specifically mentioned were New York City and Chicago. The release said, in part, "And just several weeks ago in California's Bay Area … officials seemed more concerned with reassuring illegal immigrants that the raid was unrelated to immigration than with warning other MS-13 members that they were next." Charges in the raid included drug trafficking, murder and extortion.
Cities that receive grants from the Justice Department and don't comply with immigration policies could see those grants taken away due to violations. The department gives out more than $2 billion each year in an effort to help certain locations deal with crime. While some cities may comply due to pressure from the department, others, like Seattle, have filed federal lawsuits. Whether or not the government follows through with its threats to pull grant funding remains to be seen.
If you need assistance with immigration or asylum in Washington state, contact our team of experienced immigration attorneys. We are here to help you in a way that is compassionate and fair. Call today to schedule a case evaluation or for more information on the laws surrounding your status.