ICE Impersonators Target Harvey Victims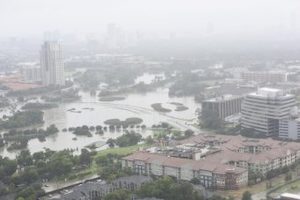 The Immigration and Customs Enforcement Agency is warning the public in Houston of people impersonating its agents. These imposters are targeting victims of Hurricane Harvey, telling people to evacuate their homes. Once evacuated, the homes stand empty and ready to be stolen from.
ICE, FEMA and officials in the city of Houston told people last week that no one would be asked for identification or citizenship papers when seeking shelter from the ravages of the storm. It is a worry that people are avoiding seeking shelter due to their immigration status, putting themselves in danger.
ICE officials released a statement that said, in part:
"Members of the public who receive such visitors should ask to see these properly labeled badges, and their credentials. In addition, these officers and special agents would be conducting hurricane relief operations with other local law enforcement agencies. Also note that during Hurricane Harvey relief efforts, U.S. Immigration and Customs Enforcement (ICE) is not conducting immigration enforcement operations in the affected area."
People in the affected area who may not have legal status as citizens in the United States should not fear seeking help as Houstonians remedy themselves and the city following the hurricane.
If you are an immigrant in need of legal assistance, please reach out to our office. We have in-depth knowledge of immigration law as it currently stands in the country and are prepared to help you with the issues you face. Call our office today to schedule an appointment for a case evaluation and learn more about your legal rights.