Immigration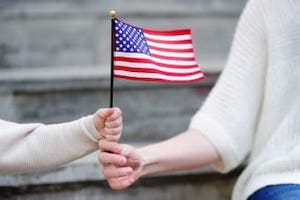 Elliott Law Group is considered one of the Northwest's top immigration law firms. With convenient offices located in both Spokane Valley, Washington and Coeur d'Alene, Idaho, our immigration attorneys can meet with you in person or by private telephone consultation to discuss your immigration issues.
With the current turmoil surrounding the US immigration system, including controversy over the DACA program, the situation at the southern border, and reports of ICE raiding homes and apartments, hiring an attorney who knows and understands immigration law is more important than ever. The U.S. immigration laws are complex and ever changing. If you need help please contact us.
Our services include assistance in obtaining Immigrant Visas, including Family based and Spousal visas and Non-immigration visas, such as Fiancés and Spouses of U.S. citizens (K-1/K-3) and Visas for Victims of Crimes (U-1/T-1). We also assist our clients with obtaining Citizenship, Asylum, benefits under the DACA (Deferred Action for Childhood Arrivals) Program and Legal Permanent Residency (Green Card) through an Adjustment of Status process. If you or your loved one finds themselves in the Removal (Deportation) process we can also help.
Call us for a consultation to discuss your immigration status and needs. We can help you with direct representation in a Citizenship and Immigration Services office, Asylum Office, Immigration Court and other government offices.
We have had clients from across the U.S., including Washington, Idaho, Oregon, Montana, Nevada, Texas, New York, Virginia, North Carolina, Alabama, Georgia, California, Alaska, Hawaii, Arizona, and Florida.
Our lawyers are federally licensed to practice law in the Eastern District of Washington; as such they are authorized to assist with immigration cases in all 50 states. People understand that they need the best immigration lawyers available, so they call Elliott Law Group.
We truly care about your case. Our attorneys have an excellent track record of success in immigration matters. We understand the complexity, stress, and crises that immigration issues cause for individuals and families. We stand committed to listening to your specific needs and situation. We will work tirelessly to address and resolve your immigration issues.
We will provide clear communication because we want to ensure that you understand every detail of your case. If English is difficult for you, we have Russian and Spanish speakers on staff. We have translators available for other languages to assist in helping you understand every aspect of your unique situation.
We Are The Law Firm You Can Depend On. Please contact us today and let us begin assisting you with your immigration needs – professionally, efficiently and effectively! Call (509) 891-4301 or (208) 667-0566.