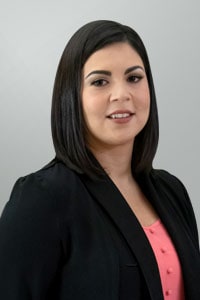 Joanna Couch
Paralegal
Joanna Couch first joined Elliott Law Group, PLLC as an intern through Spokane Community College's ABA-approved paralegal program. Excelling in her studies and graduating with honors, Joanna received an Associate Degree in Applied Science in Paralegal Studies and was awarded one of two Outstanding Paralegal Awards given.
Since joining the firm in 2012, Joanna has helped countless families reunite here in the U.S. and has also assisted numerous immigrants in obtaining legal status and U.S. citizenship.
Joanna was born in Los Angeles, California and raised in Yakima, Washington. Joanna is fluent in both Spanish and English. She was raised in a very close Hispanic family and community. Being brought up by her first-generation Mexican immigrant parents, and growing up in an very productive agricultural region, Joanna knows first-hand how difficult life can be for the immigrant community in the United States. She is grateful for being able to utilize her education and language skills to help the immigrant community with acquiring legal assistance and effective counsel in a range of legal issues they may encounter. Joanna takes great pride in her work and thoroughly enjoys the ability to positively impact people's lives in such a meaningful way.
In her free time Joanna enjoys spending time with her husband and two children, hosting get-togethers with friends, and shopping.
Languages
English, Spanish
Education
A.A.S, Spokane Community College, 2013
President's Honor Roll, Terri J Dobler Outstanding Achievement Award