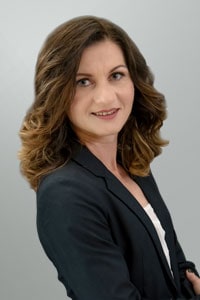 Kate Karpov
Paralegal
Kate Karpov came to Elliott Law Group as an intern through Spokane Community College's ABA-approved Paralegal program in November of 2015, and was hired as a paralegal after the completion of her internship.
Kate received an Associates Degree in Applied Science in Paralegal Studies in 2017, with a President's Honor Roll status, and was honored with a Terri J. Dobler Award for Outstanding Achievement.
Being both Russian and English-speaking, she helps non-English clients of Elliott Law Group feel more confident with their situations and understanding the U.S. complicated legal system.
Originally, Kate is from Belarus where she was born and raised. Her parents are both lawyers and ever since she was young, Kate wanted to work in the legal field. Kate graduated from Law School of Belarusian State University and worked as a lawyer for six years at a private company there.
In 2014, Kate's family came to the U.S. through the Diversity Visa Lottery Program. Kate is married and has two children; a boy and a girl. Kate's family has an active lifestyle. Kate and her husband enjoy running and other sports including basketball, yoga, and swimming. Her son plays soccer, and her daughter likes riding her bike and gymnastics. Kate likes to spend her spare time together with her family; traveling, and camping.
Languages
English, Russian, Belarusian
Education
A.A., Spokane Community College, 2017
Paralegal Studies | 2017 Terri J. Dobler Award for Outstanding Achievement
Spokane Community College, 2014
ESL Program
Law School of Belarusian State University, 2010
Diploma in Jurisprudence