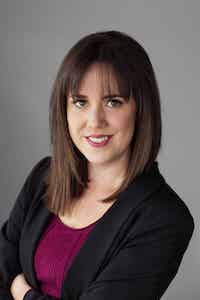 Katie Merrill
A skilled and dedicated attorney, Katie Merrill represents clients in serious criminal defense, personal injury, and immigration matters, and has earned a reputation for achieving positive results in cases with the most challenging legal and factual issues.
Katie first found an interest in law when she was in the 4th grade and learned about the constitution, and how all statutes and case law revolve around both the federal constitution and each state's constitution. She was immediately fascinated by the subject of law, and how basically all aspects of everyday life intertwine with the legal field. It was from that point forward that Katie knew that she wanted to be a lawyer and that she was destined to help clients navigate the complicated legal field.
A graduate with honors from Gonzaga University School of Law and Westminster College, Katie brings a well-rounded background to the Elliott Law Group, PLLC team. She has earned Avvo's Client Service Award since 2017 and believes that one key to effectively representing clients is to fully understand their goals. She is known in the community for fearlessly taking on cases that often involve unique facts, complex issues and litigation, that other attorneys often shy away from. She has been able to reach many successful outcomes in those cases. In one of Katie's favorite cases, she had a chance to help a gentleman with a claim that another attorney had inadvertently made a mistake on. The other attorney is well known in the community and many other attorneys either refused to take the case altogether, or told the client that, if it came down to it, they would not pursue any litigation. Without hesitation Katie took on his case and was willing to do what was needed to reach the outcome that the client wanted. She thoroughly prepared the case, and negotiation arguments; and through letters and skilled negotiations with the opposing side, she was able to reach the outcome that the client wanted. Then she went above and beyond, and negotiated the liens and subrogation interests associated with the claim, maximizing the recovery to the client.
"Every client has different objectives, concerns, and personal considerations when they are dealing with our country's legal system. It's our job as attorneys to make sure we fully understand what the client wants to achieve, and then customize a plan for representation that produces success." – Katie Merrill
In her spare time Katie and her boyfriend enjoy being outdoors and doing different activities. They are often found camping or hiking in local areas, or at home maintaining their large vegetable garden or attending to their two cats, one dog, and six chickens.
Education
J.D., Gonzaga University School of Law
magna cum laude
B.A., Westminster College
Political Science, cum laude
Jurisdictions Admitted to Practice Washington
Idaho
U.S. District Court for the E. D. of Washington

Honors & Awards
Clients' Choice Award, Avvo
Professional Associations & Affiliations
Washington State Bar Association
Spokane County Bar Association
Idaho State Bar
Washington State Association for Justice
American Immigration Lawyers Association
Speaking Engagements
"Protecting Your Legal Rights and Staying Safe on the Roadways," St. Joseph Parish, 2018
Prior Positions
Provident Law, PLLC, Attorney
Spokane County Public Defender's Office, Intern
Gonzaga Law School's Juvenile Record Sealing Clinic, coordinator
Community Service
Spokane Humane Society, Parade of Paws
Kootenai Humane Society