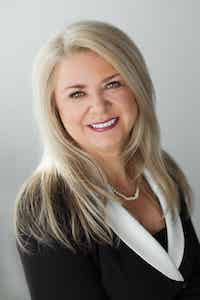 Lana Elliott
A true international attorney, Lana Elliott is a founder and managing attorney at Elliott Law Group, PLLC. Lana holds law degrees from both the University of Idaho College of Law and the Ukrainian National Academy of Law. She has been representing individuals and families in the United States with their immigration legal matters since 2005, beginning first in San Francisco and relocating to Spokane Valley in 2007.
Lana was born in the Baltic Region of Russia, and spent part of her life there and part of her life in Ukraine. In adulthood, recognizing a personal passion for helping others, Lana attended medical college where she received a nursing degree with Honors. Prior to becoming a lawyer, Lana worked in the position of Head Nurse at a children's hospital; she served honorably in the military of her native country as well. It was during that time that she learned how to thrive under pressure and the importance of compassion and open communication when working with families facing stressful situations.
"Our clients trust us with matters that will have an incredible impact on their lives as well as those of their loved ones. It's our job to do everything we can to ensure a positive result while also relieving the enormous amount of stress that comes with navigating an unfamiliar legal system." – Lana Elliott.
Lana recognizes on a personal level the steps, challenges, rewards and frequent obstacles found in the current immigration process. She immigrated to the U.S. through her U.S. born husband, Mark, who obtained a K-1, Fiancee visa, for her in 1999. Later, after becoming a U.S. citizen, Lana immigrated her elderly mother, under "an immediate relative of a U.S. citizen" immigration category, from Ukraine. By going through each of the immigration process's steps herself and assisting her mother, Lana had personally inquired the unique insight into a complex legal immigration process and stress, associated with it. She personally relates to her clients and the challenges they experience, and is doing her best to guide and assist them through the immigration process to achieve the most favorable outcome possible. One of her favorite cases is a case where a U.S. citizen tried to bring her fiancé to the United States. It had started with a different representative a few years ago, and after numerous consulate's denials, the couple was still separated. The U. S. citizen was forced to relocate to the home country of her fiancé and marry him there. They applied for a spousal visa, and again were denied. It took over six years and many disappointments and heart breaks, but in the end the consulate did not have a choice, but finally issue a spousal visa to the husband of the U.S. citizen. Lana jokes: "I hope the orchids, I received from my clients remind me for years to come that the fight was worth it."
Lana is bilingual in English and Russian and has been recognized by national attorney rating organizations for her work in the area of immigration law.
In her spare time, Lana enjoys traveling, outdoor activities, playing the accordion, and spending time with her family and her dogs.
She participates at worthy causes, such as the U.S. Citizenship Day and One America Workshops and volunteers at and sponsors local non-profit organizations, such as Spokane Humane Society, Kootenai Humane Society, and G.A.R.Y. (Guard and Army Reserve Youth) group.
Last, but not least Lana's latest accomplishment is being an Adjunct Professor at Gonzaga University School of Law in Spokane, WA.
Education
J.D., University of Idaho School of Law
LL.M., Ukrainian National Academy of Law
Evpatoria Nursing College
Jurisdictions Admitted to Practice Washington, 2005
9th Circuit, 2011

Honors
Listed in "Three Best Rated: Immigration Lawyers in Spokane"
Professional Associations & Affiliations
Washington State Bar Association
American Immigration Lawyers Association
Washington Chapter of AILA
Spokane County Bar Association
Languages
English
Russian, Ukrainian
Prior Experience
Law Clerk, Humboldt County Superior Court
Head Nurse, Sacco & Vancetti Children's Hospital
Nurse, Zelenaya Gorka Children's Hospital
Communications Specialist, Soviet/Russian Air Force
Community Service
U.S. Citizen Day
One America Workshops
Spokane Humane Society,
Kootenai Humane Society,
G.A.R.Y. (Guard and Army Reserve Youth) group.