Spokane Immigration Lawyers can Help You with Immigration Issues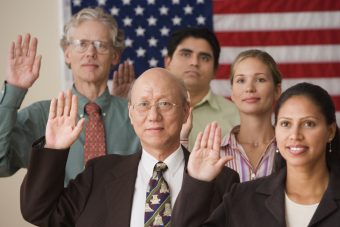 There is no doubt that the immigration laws can be extremely complicated. While they were set up with the best of intentions in order to protect natural American citizens, the fact is that in many cases they impinge on the rights of immigrants who wish to settle, or in some cases affect people from other countries who have been here for years. This can cause an enormous amount of hardship and distress, and if you are affected you need the help of a specialist Spokane immigration attorney such as those at Elliott Law Group.
With offices in both Spokane and Coeur d'Alene in Idaho, Elliott Law Group is highly regarded as a law firm with many of the top immigration attorneys in both Washington and Idaho, cities of Spokane and Coeur d'Alene. Our attorneys can meet with you in person at one of our two offices, or we can have a discussion over the telephone regarding your immigration issues whether these are immigrant visas or non-immigrant visas. Because the immigration laws are so complex, we need an initial discussion with you in order to research your immigration status and establish exactly what you need.
Washington and Idaho Immigration Attorneys Who Really Care
We truly care about your case. We understand the hardship and distress, and sometimes even crises, that immigration problems can cause for individuals and even whole families in Washington and Idaho. In fact, the place that you are physically really doesn't matter, as we provide immigration services to clients based anywhere in the US, and even worldwide.
The good news is that, when it comes to immigration status, our attorneys know the law inside and out. We have an excellent record of success with immigration matters. Many clients come to us looking for specialist Spokane immigration attorneys because they want to gain US citizenship, or a green card for permanent residency status. Some need extension of non-immigration status or an adjustment of their status, while others may be seeking asylum in Washington or Idaho. Still other people may be desperately seeking to avoid deportation and/or may need assistance with criminal matters.
At Elliott Law Group we understand your concerns and we will work tirelessly to address them and to achieve the end that you wish to achieve. It is what we do day in and day out, and we are renowned for being very good at it. We can represent you in a Citizenship and Immigration Services office, and in an immigration court with legal support. Our objective, for all our clients, is to gain a successful outcome – one which makes our clients want to recommend us to others, which they very often do.
So whatever your immigration problems, call our office in Spokane or in Coeur d'Alene for an initial appointment when we can set some of your fears at rest.