Thousands Become Citizens on Independence Day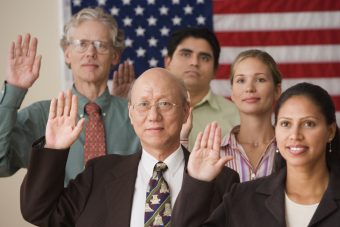 The United States holds a special ceremony every year on or very close to Independence Day. During that ceremony, thousands of people are sworn in as citizens. This year, close to 15,000 people had the opportunity to participate in these ceremonies. The U.S. Citizenship and Immigration Services said that there were more than 65 separate ceremonies held in areas across the country.
Immigrants took their citizenship oath in national parks, museums and libraries. Some of the ceremonies were held on baseball fields, and others were held on aircraft carriers. One ceremony was held at the home of Thomas Jefferson, one of the country's founding fathers.
To be eligible to participate in a ceremony, an immigrant must have had a green card or been a permanent resident for at least five years. Those who are seeking to become citizens after marrying a United States citizen must have been married for three years. Participants must pass a citizenship test and be able to speak, read and write English. The test is a difficult one. It is estimated that only two-thirds of natural-born Americans of voting age could pass it.
If you need assistance with immigration issues in Washington state or elsewhere in the country, please call our office. We have extensive knowledge in immigration law throughout the country and can provide you with the information that you need. Call today to schedule an appointment to speak with one of our attorneys. We are looking forward to meeting you and discussing your needs.