Traffic Ticket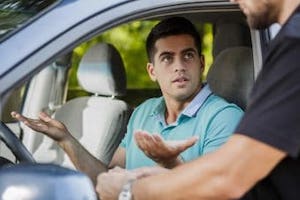 Receiving a traffic ticket can be very costly with fines and possibly raising your insurance rates. Elliott Law Group is a leading law firm with some of the top rated traffic ticket attorneys in the Spokane, Washington / Coeur D'Alene, Idaho, area. Our lawyers can help you understand your rights and what needs to be done when you have received a traffic citation, whether on the roads of Washington or Idaho. It is important to contact an experienced traffic ticket lawyer as soon as possible after ticket being issued so that we can make sure to protect your interests from the onset of the case, and make sure that all response deadlines are met.
Our traffic ticket defense attorneys provide representation for all types of traffic citations/infractions including:
Failure to signal
Negligent driving
Improper lane usage
No insurance
Speeding
Failure to yield
CDL Violations
Our attorneys work to help each client reach the best possible outcome for their case. People often think about us as the best way to "fight a ticket" in Eastern Washington or Northern Idaho. Whether you are seeking a dismissal, traffic school, getting the infraction amended or reduced, or taking it all the way to a contested hearing, our attorneys can help. We advise you of your rights and options throughout the process of your traffic case, making sure that you are able to have the best outcome for your individual case.
Commercial Driver's License Tickets
Our Traffic Ticket Attorneys represent all types of CDL tickets and violations and understand the impacts that certain tickets can have on your license, and potentially your livelihood. We understand how important it is to you to fight a commercial drivers license traffic ticket in either Washington or Idaho, and prevent the potentially harmful impacts it may have on your license. The Traffic Ticket Attorneys at Elliott Law Group are aggressive in fighting for the best outcome possible for CDL holders.
Contact Elliott Law Group today to see if we can help you with your traffic ticket. We practice traffic ticket defense in Spokane, Spokane Valley, Post Falls, Coeur d'Alene, and anywhere in Spokane or Kootenai Counties. We offer free consultations* for traffic cases by phone or in one of our offices in Spokane Valley or Coeur d'Alene, Idaho.
We Are The Law Firm You Can Depend On. Please contact us today and let us begin assisting you with your traffic ticket defense– professionally, efficiently and effectively! Call (509) 891-4301 or (208) 667-0566.