Trump Administration Ends Protection for DREAMers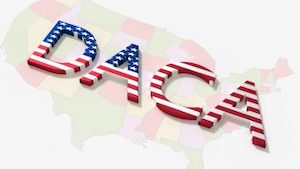 Early in September, President Donald Trump announced an official end to an Obama-era program that had offered protection to young, undocumented immigrants, nicknamed "DREAMers." The Trump administration called the program unconstitutional. The decision struck fear among the close to 800,000 immigrants who have resided in the country illegally since they were children.
The President said that he was given no choice outside of ending Deferred Action for Childhood Arrivals, or DACA. He claimed it to be an abuse of executive power by the former President. He also said that the program was unlikely to survive a legal challenge. The administration asked lawmakers to determine the fate of DREAMers, emphasizing that work permits currently held would not be revoked for at least six more months.
Several politicians, business executives and civic leaders quickly became opponents of the move. Some have promised to pursue action to protect these illegal immigrants. Although the future of those currently in the United States under DACA is under consideration, the administration did say that no new applications would be accepted. Those holding two-year work permits will be permitted to apply for renewal once their current permits expire in 2018.
Those who support the program voiced concern that the applications for renewal would not be approved by an administration that has taken a hard line against immigration.
If you are a DREAMer or other illegal immigrant and are approached by ICE, use these tips provided by United We Dream to protect your rights:
Don't open your door for them to come in.
Remain silent.
Don't sign anything.
Record the event, and report it.
Call an attorney immediately.
If you need assistance with immigration issues, please reach out to our experienced team of attorneys. We understand the current laws and we can offer you the help you need. We are here for you and your family. Call today to schedule an appointment.