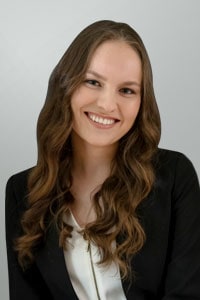 Virsaviya Sidorenko
Legal Secretary
Virsaviya first entered the legal field as an intern at the Spokane County Prosecuting Attorney's office through the Spokane Community College Legal Assistant program. After graduating with honors from Spokane Community College in June of 2016, she joined Elliott Law Group in September of the same year. Virsaviya is fluent in both Russian and English and she is very proud to be part of a legal team that is passionate about helping people resolve a wide variety of legal issues each and every day.
Virsaviya was born in Donetsk, Ukraine. When she was only three years old, her family immigrated to the United States, settling in Sacramento, California for about eight years. In 2005, she moved with her family to Spokane, Washington.
Aside from work, Virsaviya is a pianist at Bethlehem Slavic Church. She plays the piano for the children's, youth, and adults' choir. She also likes to sing, draw, hike, and kayak in her free time, and enjoys spending time with family.
Languages
English, Russian, Ukrainian
Education
Spokane Community College
Legal Administrative Assistant 2016, Front Office Professional Certificate 2014, Certificate of Communication Studies 2014