What Better Attorney in Coeur d'Alene to Fight for Immigrant Rights Than an Immigrant?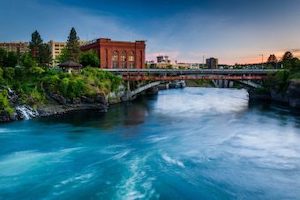 Immigrants in the US are everywhere, including in the smaller cities like Coeur d'Alene. When you have any sort of immigration problems, what better a person to fight your case than someone who is also an immigrant? At Elliott Law Group we are all immigrants, from Mexico and Ukraine, so we fully understand all of the stress and anguish that can be caused when you are trying to make sense of the immigration laws here.
We have law firm offices in Spokane Valley as well as Coeur d'Alene, so we can fight your case for you whether you are in Washington or in Idaho. We service all of Spokane, Okanogan, and Kootenai Counties. When you need a Coeur d'Alene immigration attorney we have those who speak both Russian and Spanish fluently, so we can easily help you if your English is not very good. You can meet with one of our attorneys personally or they can help you with a telephone or Skype conversation.
With the recent upsets in the US immigration system, including the DACA program, we are getting more and more inquiries from people needing a Coeur d'Alene immigration attorney. The immigration laws here are very complex, and the first thing to do is to consult with one of our attorneys who can research your immigration status and identify exactly what you need. This initial consultation is completely free of charge.
All Types of Visas
We can help you with all types of visas including family-based visas, spousal visas, and employment-based visas. We can also help with non-immigrant visas of all types including spousal and fiancé visas, temporary agricultural and non-agricultural workers visas, visas for students and trainees, visas for specialty occupations, visas for people in intra-company transfers, and exchange program participants visas.
Our Coeur d'Alene immigration attorneys can also help with all citizenship problems, people seeking asylum, adjustment of status, the DACA program, and people who are seeking to avoid deportation. We can represent you in an immigration court or in a Citizenship and Immigration Services office and defend you against deportation, even if this is in connection with criminal matters. Many of the immigrants who come to us are seeking to obtain a green card for permanent residency status or are wishing to become naturalized US citizens.
Our immigration attorneys have a great track record of success in immigration matters, because, as immigrants ourselves, we CARE about you. We understand only too well the stress and strain that whole families can be under because of immigration problems, and we work ceaselessly to resolve whatever issues you may have. Call an immigration attorney today – we can meet you in either Spokane or in Coeur d'Alene!